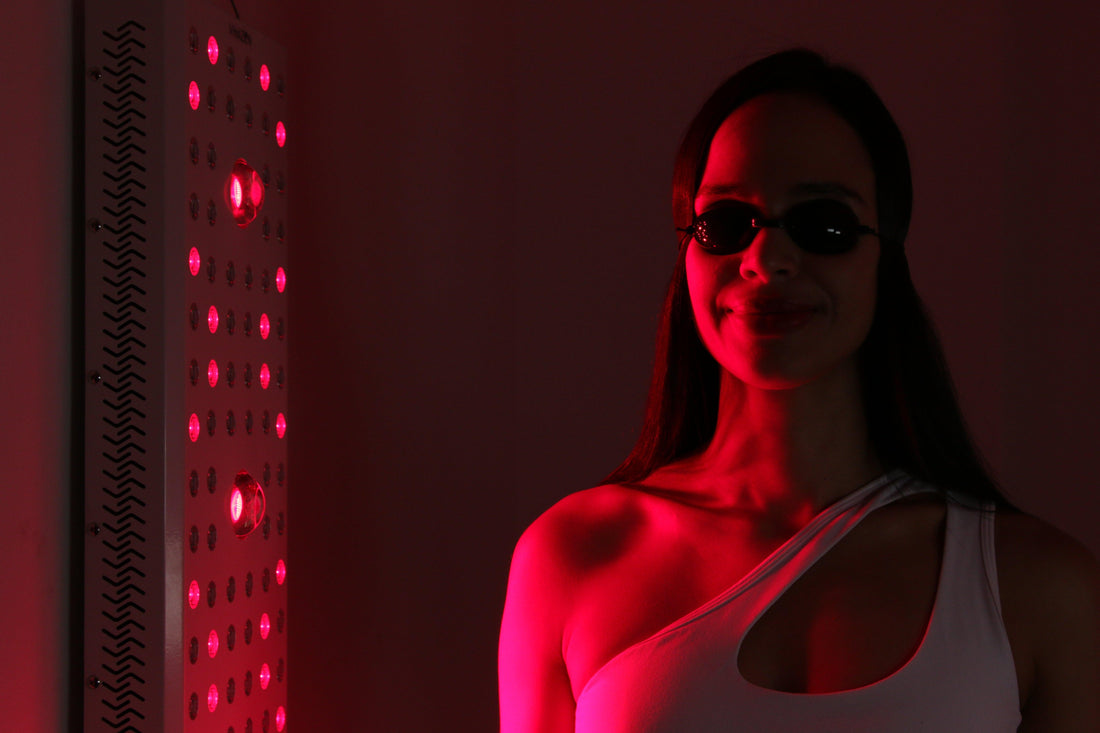 Which Red Light Therapy Device Is The Best? Comparing Vitalizen, Joovv and Hooga
Are you trying to choose the best red light therapy device from the top companies out there? Unsurprisingly the presence of many brands in the market will make you feel a little overwhelmed to zero in on the right product.
In a market that's saturated with herbal medicines, supplements, and alternative fitness equipment, the red light therapy device stands out due to its promising results for pain, wound healing, inflammation, hair growth, and hormone balance, etc.  (1) ( 2)
This article will compare the different red light device brands in the market and will help you pick the best one.


Below is a chart that shows, in more detail, the comparison between the VitaliZen Red Light Therapy Devices, Joovv Solo and Hooga 1500
What are five factors to consider while choosing the best red light therapy at home device?
Irradiance
So what is irradiance? It's the amount of energy that a particular part of your body receives over a fixed period while using the device. Irradiance is the most crucial factor when using a red light therapy device at home because higher irradiance produces highly significant results in less time. 
The format used to measure irradiance is milliwatts per square centimeter, for example, 213 MW/cm2. However, the irradiance measurement is not valid if the distance is not provided. So check whether the red light therapy device has a high irradiance reading on the object exposed to it. 
Frequency
The next factor to consider is frequency. Usually, a typical red light therapy device has a range of frequencies from 660nm to 850nm. 660nm signifies a deep red that penetrates your skin and acts on mitochondria, whereas the 850nm frequency is near-infrared light that penetrates deeper into tissue. 
Usually, red light wavelength penetrates your skin, promoting collagen production and wound healing. Contrarily, near-infrared light goes deeper and targets muscle pain, deeper wounds, and joints. 
Quality of the product
Quality is not something you must overlook when it comes to devices designed for use on the human body. To prevent buying an unsafe appliance, always check the standardization that attests to the device's authenticity and safety. Standards to check include the safety of the parts used and factors that refer to light calibration.
Treatment coverage area
It's always the best idea to buy a device with maximum coverage area because larger devices emit more energy and perform better than small devices. Also, these devices allow you to access full-body red light therapy at the convenience of your home. So if your budget allows, always opt for a bigger red light therapy device to maximize the use of its health benefits. Also, check whether you'll get a refund should you not be satisfied with the product.
Customer feedback
Testimonials and customer reviews tell a lot about the product concerned. They offer a small window about the working of the red light therapy device, ease of use, and light intensity. 
Likewise, they inform whether it requires some investment to maintain or whether it's a device that's prone to breakage–––helpful firsthand information that could help you zero in on the product.
How do Vitalizen Red Light Therapy devices keep up with these 5 factors? 
The measure of power output is called irradiance. A high irradiance is essential for effective treatments. So it's always best to choose the red light therapy device that has the highest irradiance.

The 1200-watt VitaliZen red light therapy device has the highest irradiance compared to other popular brands in the market. VitaliZen has a significantly higher irradiance of 213mv/cm2, while the other brands have an irradiance >100mW/cm2.

Likewise, VitaliZen red light therapy device contains cob chips, which produce potent and brighter light therapy for better overall treatment while consuming less power. So you enjoy maximum benefits with less power consumption. 
VitaliZen red light therapy device has four cob chips while the other popular brands have none. These factors set the VitaliZen RLT device apart as the market's best product.
See what a happy customer has to say about VitaliZen "I love this product. It's made of high-quality material, easy to set up, and very powerful. The irradiance is accurate because it was tested with a solar meter. Ideal for introducing red light therapy to my daily care routine." 
During an RLT treatment, chromophores within our mitochondrial cells absorb the red and infrared light photons and convert them to energy. Once your body absorbs this red light, your cells build new proteins such as elastin and collagen. Likewise, red light increases the Mitochondrial potential to help you function at your optimal performance. 

VitaliZen 1000W RLT Device has the highest irradiance of 126.2mW/cm2 compared to other famous brands when we see the above chart. Likewise, its price is highly affordable, and it comes with a five-year warranty. The device costs $1200, but you get it for half the price and save a whopping $600.

If we compare these devices to Joovv's Solo 3.0 which is one of their more affordable devices at $1445, it has an irradiance output of >100 mW/cm2 and can be used alone or linked in arrays of up to six Joovv Solos in a modular design. This unit has 150 LED bulbs that emit red and NIR light and the claimed treatment size is moderate.

Hooga 1500, on the other hand, is another popular brand that offers a variety of red light therapy devices too. Their HG1500 delivers an irradiance of only 100mw/cm2 at the surface of the device. 
How does Vitalizen compare to Joovv Solo and Hooga 1500?
The basic motto of VItaliZen is to solve your health issues in holistic and natural ways through their innovative health products. So they're highly responsive and take care that you get success with their products. When you choose a VItaliZen product, you can rest assured of the quality and efficiency of the RLT device. So here are the reasons why our VitaliZen is better than other brands, especially Joov Solo and Hooga 1500.

Coverage area: Joov Solo, while almost similar in size to VItalizen and Hooga 1500, delivers moderate treatment coverage while Vitalizen gives full-body coverage. Likewise, Joov Solo being expensive among the RLT devices could also have problems with flicker and EMF radiation.

Cob Chips: COB or Chip-on-Board refers to mounting a LED chip directly to the substrate. It has many advantages over the older LED technologies. It produces a higher lumen density that results in higher intensity and more excellent uniformity of light.

Likewise, COB Led technology significantly reduces the energy consumption and footprint, maintaining constant light output. VitaliZen has 4 COB chips and costs an easily affordable $735, while Joov Solo (costs $1445) and Hooga 1500 (costing $889) may not have COB Chips because it is not specified in their description.

Warranty: While evaluating brands, you also need to look at the warranty period. VitaliZen offers a five-year or three-year warranty to either of its models, while Hooga 1500 and Joov Solo give a two-year warranty period.

Life of Bulb: Also, when we look at the bulb's life, VitaliZen offers 100,000 hours, while Hooga 1500 offers 50,000 hours, there's no mention about the life of the bulb in Joov Solo. And again, you must remember the cost of the 1200 WATT VitaliZen RLT device is just $735.

Irradiance: A high irradiance increases the success rate of RLT treatments. Compared to other brands, Vitalizen RLT devices have the highest irradiance, 126mW/cm2, and 213mW/cm2, respectively. While the red light therapy devices of Joov Solo and Hooga 1500 give an irradiance of >100W/cm2 and >115mW/cm2.
Health Benefits of VitaliZen Red Light Therapy Device
Red light therapy may help with the following conditions.
It helps improve the pain in joints of people with degenerative osteoarthritis.

Relieves inflammation and pain in people with Achilles Tendons

(3)

Helps treat sun damage

(4)

Lightens acne scars and burns

Boosts collagen production resulting in a plump, youthful skin

(5)

Improves skin complexion and diminishes wrinkles

Promotes tissue repair and wound healing

Reduces psoriasis lesions

Aids in the short term treatment of carpal tunnel syndrome

Enhances hair growth in people with alopecia

It gives short-term relief for morning stiffness and pain in people with rheumatoid arthritis.

Treats slow-healing wounds, for instance, diabetic foot ulcers

Reduces the side effects of cancer treatments, including mucositis

(6)

It helps increase the memory of people with dementia, promotes sound sleep, and improves their mood.

Relieves dental pain, especially those with temporomandibular dysfunction syndrome
The Best Red Light Therapy Device
In essence, the red light therapy device improves circadian rhythm, mental acuity, performance, and recovery. Likewise, it promotes healthy skin, reduces inflammation, enhances sleep quality, and improves blood flow. 

So if you prioritize a healthy lifestyle, an RLT device would be a valuable addition to your home. Try Vitalizen red light therapy device; it's the best one in the market with high irradiance, affordability and gives significant results.

Here at Vitalizen, it is our mission to help improve people's health and wellness - we want you to experience the benefits of red light therapy without having to break your bank. To sum it up, we'll leave you with this final list of reasons why we think you should consider a Vitalizen Red light therapy device: 
We offer one of the most powerful light on the market in terms of power output or light irradiance

You get the most advanced spectrum that targets all the most beneficial wavelengths for practically any therapy you may need

You get round the clock customer support that you may contact even before purchasing

You get either a 5-year or 3-year warranty that not any other company can offer
As if that's not enough, VitaliZen offers you some great discounts on all its three models. Also, they ship worldwide. So grab this offer before all the devices get sold out.


References:

1. https://pubmed.ncbi.nlm.nih.gov/27561854/
2. https://pubmed.ncbi.nlm.nih.gov/28070154/
3. https://www.ncbi.nlm.nih.gov/pmc/articles/PMC2491942/
4. https://www.ncbi.nlm.nih.gov/pmc/articles/PMC3926176/
5. https://pubmed.ncbi.nlm.nih.gov/16989189/
6. https://www.ncbi.nlm.nih.gov/pmc/articles/PMC3882349/